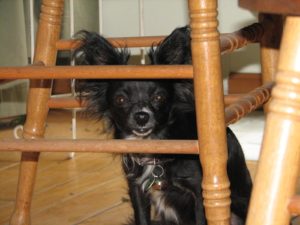 If you live with or are working with a scared or shy dog, this is the place to find information to help you be more effective in the rehabilitation and training of this vulnerable population of dogs. You will find products and services that are available to help with the process, along with other resources that offer support and advice.
Available to you are in-home visits, phone consultations, webinars, seminars and online courses about the most effective and humane ways to work with dogs with fear based behavior challenges.
I started this site because of Sunny who survived a hoarding situation and was brought to one of the hurricane rescue camps in 2005, where I met him. Over the years I have learned about rehabbing a fearful dog and wanted to share that information with others trying to make breakthroughs with scared/fearful/shy/anxious dogs. Working with a scared dog will be one of the most challenging, frustrating but often rewarding experiences a dog owner will ever have. If you've decided that you want to not only keep your dog, but help it learn to be less fearful, you'll find support and information here.
For easier reading and more information about living and working with a fearful dog you can purchase a copy of 'A Guide to Living With & Training a Fearful Dog', a resource for owners and rescuers.
Konrad Lorenz had this to say about training animals- "Art and science aren't enough, patience is the basic stuff."