Upcoming Training Workshop
From Dogs to Donkeys: What training other species can teach you
TEAM: Training Efficiently And Mindfully
Dates Pending for June, 2023, 9 a.m. – 5 p.m.
Location: Lemon's Hope Sanctuary, Brattleboro, VT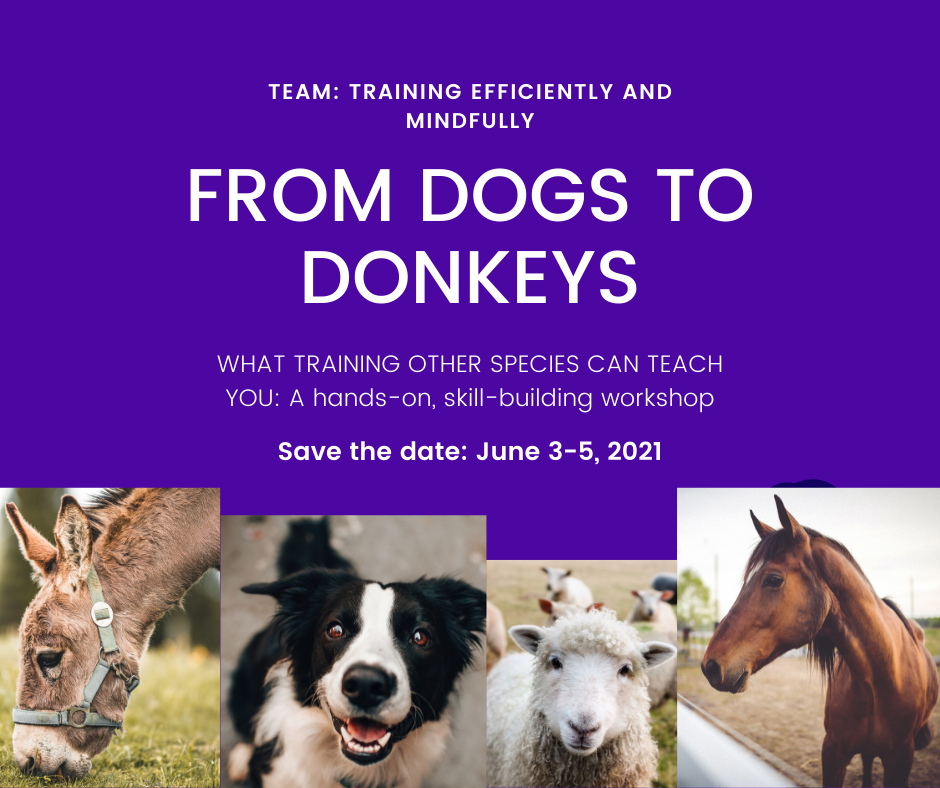 Join Sara Matters, MA, ABCDT, Debbie Jacobs, CPDT-KA, RBT, Lindsay Mehrkam, Ph.D., BCBA-D, and other behavior analyst presenters for three days of evidence-based information and practice related to learning and behavior change at Training Matters' farm animal sanctuary in beautiful southern Vermont. Behavior change professionals, whether they are animal trainers or human educators or both, are invited to hone their training and teaching skills with the animals of Lemon's Hope Sanctuary, sheep and a goat, miniature horses, guinea pigs, cockatiels and resident dogs and cats. Other individuals of other species may be recruited to participate as well. We hope to include beginning animal trainers, behavior analysts who are interested in moving from working with people to working with animals, as well as experienced animal trainers of a variety of species in multiple contexts, and other animal care professionals.
There will be daily seminars on applying the science of behavior analysis to training and interventions. Among the topics we plan to cover are:
where the other behavior sciences sit in relation to applied behavior analysis
how to systematically plan for working with a member of any species
behavior analysis of challenging behavior
using function-based assessments
developing successful interventions
using enrichment in interventions
task analysis (or, writing training plans)
shaping
data collection
training habits and practices to cultivate
talking or writing about behavior using behaviorally appropriate language
In addition to listening to presentations on these and other topics, attendees will practice their training skills with sanctuary and other animals. The animals are almost all rescues, and they vary in sociability as well as physical ability. We will discuss each individual and what they are able to do or not able to do, and where things stand with their training and socialization. We will provide species and individual-specific considerations for working with these animals, and discuss beginning or more advanced training as appropriate for and interesting to the trainer/learner team. We may also compare teaching one behavior to more than one species, such as haltering.
Our location in Brattleboro offers many opportunities for relaxation in down time: swimming, biking, boating, walks or hikes in soothing landscapes. Unique local attractions will also be recommended, so that you can round out your educational experience drinking in the beauty of Vermont.
"I'm inspired by you and Sara! Honestly, I think this is the fresh perspective that BCBAs need right now. You are all doing some amazing behavior Analysis…"

Jennilee Lacroix, M.S., BCBA
Our 2020 Collaborative in Puerto Rico was a great success! We plan to offer future collaboratives. You can learn more about the event by viewing our 2020 Collaborative details.
These words changed the world of dog training for me. 
Find out how these three simple words can change everything for you too.